MODBUS GETAWAY
Product Code: MODBUS GETAWAY
Availability: In Stock
---
AGG MODBUS Gateway: RTU-TCP software protocol converter
---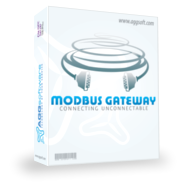 Brief description:
AGG Modbus Gateway is a utility that works as a software converter of MODBUS TCP protocol into MODBUS RTU or vice versa. It enables you to connect MODBUS TCP devices to systems or PLCs that can only work with MODBUS RTU. Protocol conversion is executed in real-time.

MODBUS gateway can be used in any place where it is necessary to connect several protocols together. That could be a SCADA system - where the MODBUS protocol is the only one used or application software that supports only one other protocol, or several applications that support different protocols, etc.
What problems can be solved with MODBUS Gateway?
Our program allows you to save money and do without purchasing hardware converters. Using MODBUS Gateway on an intermediate server or embedded computer gives you a more flexible and scalable solution with multiple settings. At the same time, the program can process up to 256 connections via COM port.

Low Cost, No Maintenance, Adaptable to any Modbus device. It can interconvert Modbus RTU-TCP. All the work is made in a few clicks, from the graphical user interface. And you do not need to buy and wait a costly hardware when you require a quick and effective solution.
Getting started is easy. MODBUS Gateway is ready!
After installing MODBUS Gateway, start it from the "Start → Programs" group. The program will ask you about creating a new connection. You should click the "Yes" button and configure the settings of your bridge in a dialog window. Click the "OK" button in the dialog window. Now, your MODBUS converter is ready.
---
Features:
---
No borders. You can create many connections with different connection settings. For example, you can serve mutilple RS-485 buses.
---
MODBUS address mapping. When converting exchange protocols, the program can replace a MODBUS network address of the device according to the specified rules.
---
Screenshoot: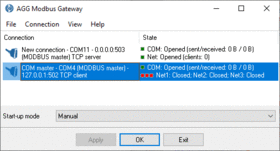 Sharing MODBUS devices. When converting MODBUS TCP into MODBUS RTU, you can arrange simultaneous access of two MODBUS master devices to one MODBUS slave device.
---
IP mapping. When converting RTU into TCP, the program allows you to specify which IP address to connect to for each MODBUS device.
---
DNS. When accessing the Internet, the program can handle dynamic IP addresses by using a domain name.
---
Real-time. Our software makes all conversions on-the-fly, whithout any delays.
---
High-speed. All network connections are optimized to work with MODBUS protocols at maximum speed.
---
Scalable. Data can be transmitted over TCP and UDP protocols both on the local network and over the Internet. On the Internet, the program can work with dynamic IP addresses using a domain name.
---
Local connections. You can also create local connections within a single computer.
---
Service mode. MODBUS Gateway can be automatically launched as a service and set up network connections before any user logs on to the system.
---
Various OS. Works on all Windows versions 2000+.
---
Easy-to-use. MODBUS Gateway software has a simple, menu-driven step by step set-up.
---
Online help. Press the F1 key at any time and on-line help will appear, providing concise and up to date documentation.
---
Product
Item ID #
License type
Price
AGG MODBUS Gateway
MBG20
Professional
Pro 20
Rp3,750,000.00
MBG10
Professional
Pro 10
Rp2,700,000.00
MBG5
Professional
Pro 3
Rp1,800,000.00
MBG3
Professional
Pro 3
Rp1,125,000.00
MBGF
Free
Free of charge
Priority E-mail Support [?]
PRI1
1 year
Rp1,035,000.00
Updates and Upgrades
Click here